alan@burrett.com
Alan Burrett's designs for theatre, opera, dance and musical theatre can be seen regularly throughout the world.

He has designed lighting for many large-scale theatrical and architectural projects, concerts and festivals.
Born in London, his career began as resident designer with Bejart ballet in Brussels where he designed sets, costumes and lights for many internationally acclaimed productions. He went on to design the sets, costumes and lights for the 300th Anniversary of Moliere at the Comedie Francaise and various productions for the Paris Opera Ballet and French television. Later he was appointed Technical Director for the Ballet of the Opera of Lyon where he also designed the sets, costumes and lighting for several productions.
Don Giovanni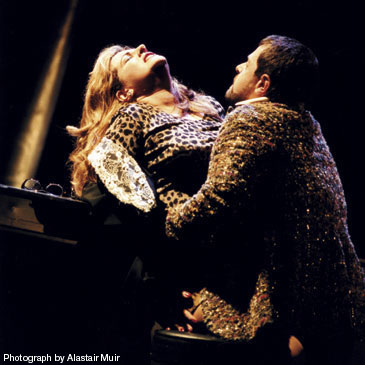 ENO and Liceo Barcelona
He returned to London to become head of the lighting department at the English National Opera. After three years, he left the ENO to become assistant to David Hersey on the musical Miss Saigon and other projects. Alan Burrett continued his lighting career in the UK and Europe designing many memorable productions at the Royal Shakespeare Company, The Royal National Theater, Royal Opera Covent Garden, The Paris Opera, Munich Opera and the Burgtheater Vienna, He enjoyed collaborating with directors such as; Adrian Noble, John Caird, Keith Warner, David Thacker, Claus Peymann, Sir Peter Hall, Sam Mendes, Matthew Warchus, Trevor Nunn, David Leveaux and Francesca Zambello .
Beckett Festival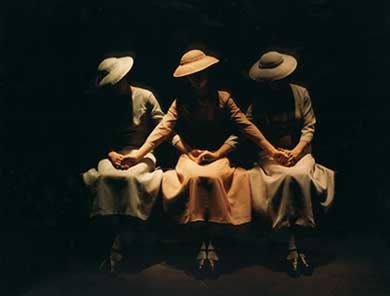 Gate Dublin, Lincoln NY and Barbican London
During this period Alan Burrett continued to accept new, diverse artistic challenges with international companies. He lit large-scale arena productions of the Operas Carmen and Tosca in London, Germany, Australia and Japan. He also lit the complete works of Beckett for the Gate Theatre in Dublin, New York and London. He designed sets and lights for the Caracalla dance company for re-opening of the Baalbec Festival In Lebanon. At the 1992 World's Fair in Seville he was part of the design team for the Spanish Pavilion project. Expanding his portfolio he went to California to create the lighting for the U.S tour of Duran Duran.
In 1995 Alan Burrett began a 10-year collaboration with LA Opera and in 2001 was invited to become their first resident lighting designer where, to date, he has designed twenty-five productions. Currently based in Los Angeles, Alan Burrett continues to work as a freelance lighting designer for companies in the United States and abroad. His productions have received critical acclaim and international awards. In 2008 Alan was appointed professor at the University of California San Diego where he heads the lighting design program.